About Us
The past and the present
Aagaard Klinik was established in 2004 when we took over a specialist gynaecology clinic in Aarhus. Today, Aagaard Klinik consists of the following three units:
Gynecological Clinic
Aagaard Fertility Clinic and
Having these three units under one roof enables Aagaard Klinik to offer the most comprehensive and cohesive range of treatments in Denmark.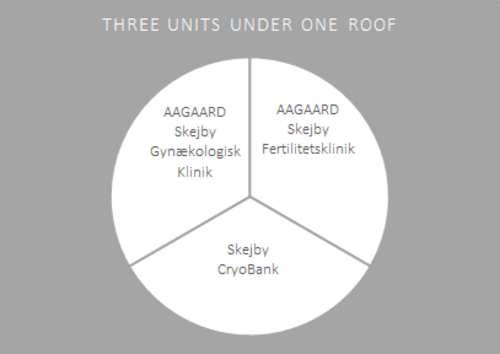 Aagaard Klinik treats patients with private healthcare insurance and private patients from Denmark and abroad.
We have at our disposal the very best equipment, and we use only the methods proven to give the highest success rates. As the only fertility clinic in Denmark, Aagaard Klinik is formally accredited in accordance the Danish Healthcare Quality Programme. In other words, we have proved that our services comply with the high quality standards required in the Danish public hospitals. You can download our accreditation here.
Moreover, the clinic is authorised by the Danish Patient Safety Authority to perform insemination and IVF treatments in accordance with the EU Tissues and Cells Directive. Likewise, Aagaard Klinik is licensed by VIA University College to take in student medical laboratory technicians for their clinical work experience.
In 2009 we moved to our new clinic at Hedeager 35 in Skejby in the northern part of Aarhus. The new clinic has enabled us to offer our patients more as well as more efficient and comprehensive treatments, including surgery requiring hospitalisation at the clinic.
Aagaard Klinik performs approximately 5,000 examinations a year. Since 2004 the fertility treatments undertaken by the clinic have resulted in over 3000 births.